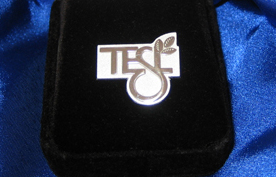 The TESL Ontario Silver Pin awards are designed to recognize those individuals who have demonstrated significant, ongoing commitment to the language training profession.
If you would like to nominate a colleague for this prestigious award please review the nomination guidelines below. TESL Toronto members should email their nomination to  info@tesltoronto.org by September 30, 2012. 
For a list of previous recipients, click here.
Guidelines for Nominations for TESL Ontario Silver Pins
TESL Ontario annually honours selected ESL professionals with a silver pin at the TESL Ontario conference dinner. Selection of the recipients is based on the following criteria:
TESL Ontario will consider up to 3 pin recipients per year
Nominees must show significant contribution to the ESL profession beyond the scope of an individual's day to day job responsibilities.
Long standing commitment to the profession is required over a period of at least 15 years.
Nominations are accepted from TESL Ontario Affiliates through Affiliate Representatives and the TESL Ontario Board.
Submissions must be sent before the designated deadline. Please note that submissions past the deadline will not be considered.
Final selection will be made by the TESL Ontario Board
Requirements for Nomination
In a supporting letter describe:
why the nominee should be considered for this award
the nominee's contribution and commitment (in bullet format) to the ESL profession
the nominee's impact in own workplace or community related to the field of ESL.
Please send your submission to your TESL Affiliate. TESL Toronto members should email their nominations to info@tesltoronto.org by August 31, 2012.